Sleepy-Agent Affiliate program - Perfect for aggressive sales people or individuals who want to offer Web hosting and streaming services in their portfolio of offerings. You do the selling and SleepyEngineers provides billing and support. Join the SleepyEngineers Sales Team today by becoming a Sleepy-Agent and start earning monthly, recurring residual income for all the customers you bring in. Immediately offer your customers, clients, friends, family, associates or new sales prospects full-service web hosting, streaming services, VPS servers, and dedicated servers.
Your referrals are in good hands with our 24x7 customer support, rock-solid reliable network and our industry leading service level agreements. Your customers will benefit from SleepyEngineer's best of breed services while you capitalize on the hosting market by earning monthly, residual income! You can login 24 hours a day to check your sales, traffic, account balance. You can even test conversion performance by creating your own custom links! See below for one of our Affiliate links below;
Key Features

Fully Automated -
The Sleepy-Agent Affiliate program is completely automated with an online system designed for ease-of-use, security, and accuracy. Sleepy-Agents have 24-hour access to their account information via a customized web-based GUI designed to manage all aspects of the program. With a click of the mouse, Sleepy-Agents can view what sales have come in for a given period of time, see the amounts of commission awarded per account, see individual customer contact information for each order they sell and much more. Sleepy-Agents can even set the system to notify them via email when new accounts come in from their sales efforts. It's simple, its automated and its exclusive to SleepyEngineers.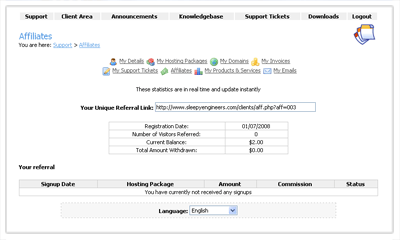 Automated Sales Tracking -
The Sleepy-Agent program is backed by our automated sales tracking system with uses cookies and hidden tags in our web pages that can track any visitor that comes to our website from your Sleepy-Agent landing page. A cookie is placed on the visitor's computer and is used to track them throughout every page of our website. When they purchase any product or service the cookie is removed from their computer and attached to the order and you receive your full commission for that sale. Additionally, our patent-pending technology ensures that even if the visitor browses our website and decides not to purchase immediately - no worries! Our system will allow them to leave and come back to make a purchase up to 6 months later and you will STILL receive your full commission on that sale. Your hard efforts NEVER go unrecognized with SleepyEngineers Sleepy-Agent program.
Partner Sales Support -
All SleepyEngineers Sleepy-Agent receive dedicated account managers who will assist them with inside sales and customer support any time you need it. Whether you are pitching a client, working up a proposal or on the road prospecting, your dedicated account manager is here working for you and your needs. A toll-free phone number will be provided to you upon admission into the program where you can reach your account manager.
Recurring Residual "life of customer" Revenue -
The more customers you sign up the more money you will receive. Start by collecting 10% of monthly service charges for every customer that purchases SleepyEngineers services through your Sleepy-Agent landing site. As your account volume increases your commission level will increase to 15%. These commissions are residual, life of customer commissions. So every month, quarter or year your customer pays SleepyEngineers for hosting services; you will receive a commission check for the life of that customer. You will essentially earn money while you sleep!
Number of Accounts
1-50 10%
51+ 15%